Our Work with The Molly McLaren Foundation
A message from our founder Alan Heyes welcoming you to Mollyfest 2022
Thank you for visiting this webpage! I am delighted to welcome you all, both to this page and to Mollyfest 2022.  You may have found this page by using the QR code on the card available at the event.
This is my third Mollyfest and I am delighted to be here.
The Molly McLaren foundation has supported Rewrite Your Story and Therapy Partners by working in Partnership to offer life changing clinical support, both for young people and their families who are affected by eating disorders.
The Molly McLaren foundation have worked tirelessly with us since 2018 to help support 18 individuals and their families to receive fully funded evidence based CBTE therapy, alongside family support and Peer support. They have raised over an amazing £73,000 to fund this vital work and we are extremely grateful to them and all who have donated. I would like to offer a Massive thank you to Doug Jo Amy and all at the Foundation for making this happen.
By Supporting the Molly McLaren Foundation your kind donations really can transform young people's futures and save people's lives by rewriting their stories.
We want to continue Molly's legacy by offering early intervention and support for people facing the challenge of eating disorders to help them overcome their demons and challenges like Molly did.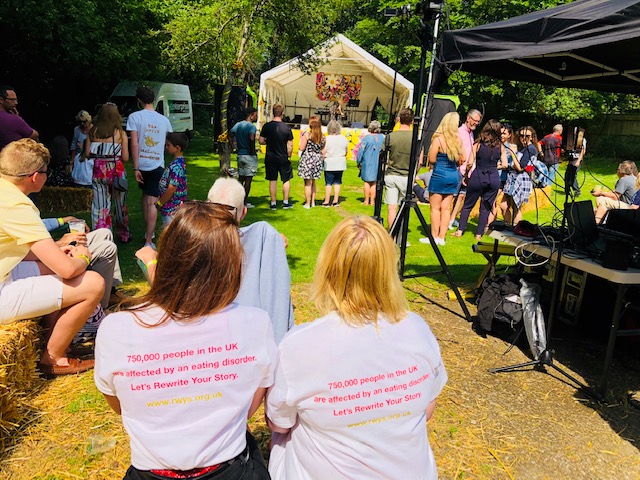 I would also like to thank our amazing team: Sallie, Claire, Jane, Rubie, Hannah and everyone else in the team – you know who you are!
Alan Heyes, Founder of The  Rewrite Your Story Charity, CEO of Therapy Partners and  Systemic Family Therapist.
25th May 2022
Alan Heyes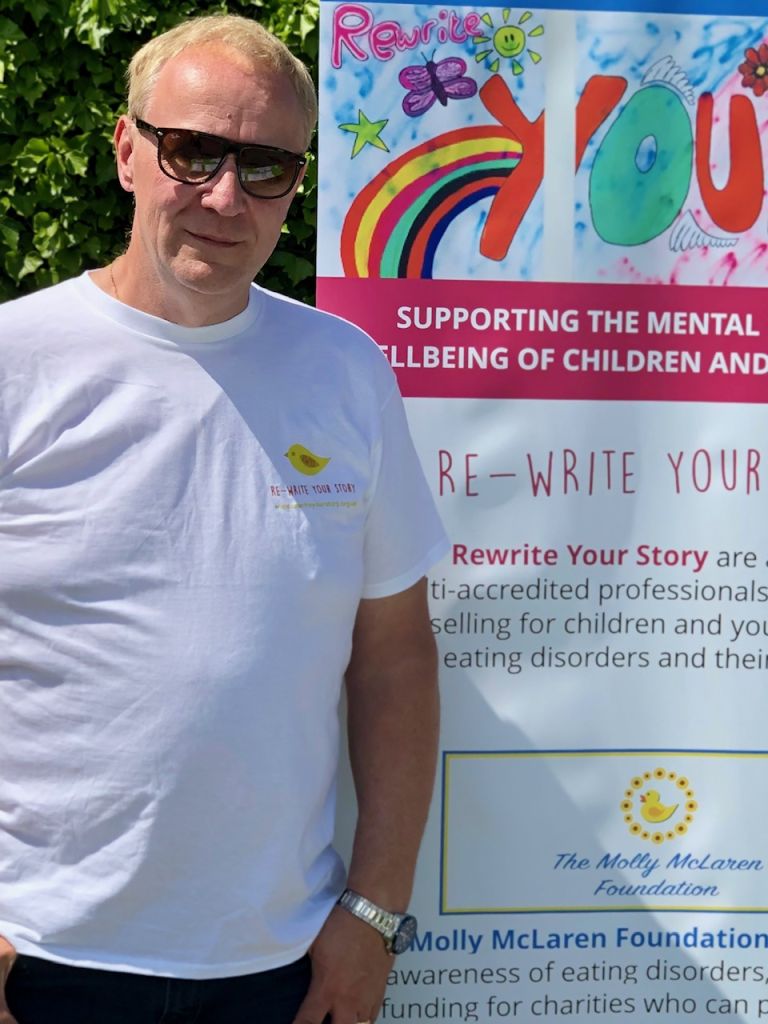 About The Molly McLaren Foundation
The Molly McLaren Foundation was created by the family and friends of Molly McLaren, with the aim to advance the health and wellbeing of young people suffering with disordered eating, whilst also supporting their families and friends. The foundation raises awareness of the issues surrounding eating disorders and sponsors the private counselling of individuals who are affected by eating disorders. More information can be found on their website, which can be found here The Molly McLaren Foundation
About RWYS
WHO ARE WE?
Rewrite Your Story is a Maidstone based Charity that specialises in working with people who want to address the relationship with food that they have adopted and that is now having an impact on their Mental and Physical Health. The Charity was set up following a clinical pilot scheme that Therapy Partners, RWYS sister company took part in during 2016-2018 for the NHS. The pilot scheme involved raising awareness about eating disorders and offering Therapeutic support to young people between the age of 14 and 25, and their families, in Kent. Upon its completion there was a recognition that the work that had been done, needed to continue, as there is unfortunately very little clinical support readily available not only in Kent but the UK as a whole. Alan Heyes the CEO of Therapy Partners, worked tirelessly to get the Charity status that was required by Rewrite Your Story and in January of 2019, this was finally awarded. Read More Here
What We Do With the Funding that We Receive
The funding that we receive from The Molly McLaren Foundation allows us to work in a therapeutic manner on a one-to-one basis, with young people that otherwise would not have immediate access to this much needed support. The young people that have benefitted from this wonderful sponsorship have all embraced the work that has been carried out in the therapy room. Whilst they have all experienced extremely difficult periods on their individual journeys, each and every one of them has learnt to identify the emotional responses that they experience, that in the past may have led them to responding to them in a negative way.  They have all made changes to the way in which they "relate" to food, which in turn has allowed them to place "control" back into their worlds. These changes have allowed these young people to move on with their lives and to be able to look at making choices that will give them a "future", rather than an "existence". Ironically, a number of these young people now want to move forward with their education and train to become Therapists in order that they can support those struggling with their Mental Health.
Thank you so much for your support
We would like to Thank Jo Doug Amy and all at The Molly McLaren Foundation for the support that you have given, words cannot express the amount of gratitude that is felt by those that have benefitted from it. The young individuals, their families, friends, colleagues and those that have the honour of working with them.
Young Peoples stories and feedback in their own words
We feel so privileged by the courage and determination of the young people that we have worked with, and we wanted to share the stories of the young people in their own words that were Kindly supported and Funded by The Moly McLaren Foundation
Trigger Warning –Some of the narrative included within these stories  might be difficult to read and may be triggering . As therapists we are conscious of this as we  are opening this up  to people from all over the world, all who have  different life experiences. We would like to post a Content Warning (CW)  and Trigger Warning (TW) as the stories below contain relating to Mental Health Self-harm and suicide  eating disorders  and  Body Dysmorphia   that may cause intense physiological and psychological symptoms for people with Post Traumatic Stress Disorder (PTSD) and other anxiety disorders. If you are affected, please visit our get help now page here Get help – Rewrite Your Story
Mai's Story
I am more than happy to provide you with insight on my journey and progress since I've embarked on this treatment programme. I am forever grateful to the Molly McLaren Foundation, for their generosity in funding the sessions and completely understand how much both they Rewrite Your Story and Therapy Partner's must value any feedback I have to offer.
That being the case. I want to begin by expressing how thankful I am to everyone involved in supporting me throughout my recovery, as I'm aware what a fortunate position I've been put in and knew that since the beginning of my therapy – despite how chronic my Anorexia was physically, mentally and emotionally, when I first started my Therapy. I was so determined to fully commit; as I was so completely lost and desperate to escape the life I'd been trying to survive and battle through each day.
I'd always felt that my eating disorder was indeed a deep darkness that I was harbouring and holding onto. A darkness that that so much control over me that it had almost taken away my whole identity. I wasn't living each day; I was surviving and suffering – whilst slowly killing myself. The worst part of all this being – I craved the pain and was close to succumbing to this great darkness. It got that unbearable.
When reflecting on how ill I were when I first met my therapist. I can see how far she's helped me come, through her use of Cbte techniques and the way in which she's delivered them to me. I've noticed so much positive progress from the therapy. Including how much control she's managed to help me gain over my disordered eating tendencies. Whilst at the same time, helping me develop a confidence and strength within that I never thought I'd ever be able to have. For the first time ever, I genuinely am starting to accept myself, not only when considering ascetics but more importantly I am beginning to value myself as a person and realise that I don't necessarily need to change many aspects of myself. Which is what I've always believed prior to my sessions.
Since I've completed my sessions, I have managed to obtain a healthy BMI which is a significant achievement.
Along with this, clear mental progress has been made, without a doubt. I have found the body dysmorphia work we've completed together particularly helpful and am so glad I put trust in my therapist and the Therapeutic process. As at the beginning if I'm honest I was getting frustrated – as I was unable to identify any changes to my mindset or situation. However, I can't explain it in any other way. Other than, one day (after completing several sessions – everything just seemed to shift within my brain) as cliché as it sounds. A switch just clicked. I began to think and feel differently and in a healthier way. And from the minute that change occurred within my brain. Things started to go in the right direction.
I can honestly say I can't believe how far I have managed to come due to completing my course of Cbte Therapy and I know I have still got a way to go mentally to fully complete my battle with Anorexia, once and for all. However, with the newfound strength I have developed within, due to the therapy I've completed and techniques I've been given. I am confident that this is a battle I'm going to win.
Mai 2022
Georgie's Story
No one ever wants to remember their teens as spending most of their time in treatment. Just before my 15th birthday I had endless trips to the doctors due to my low mood, suicidal thoughts and self-harm. Even though I'd been self-harming since the age of 12, the doctor added me to the long waiting list and just sent me on my way with medication after medication. Then on the 6th of February that year I tried to end my own life, which made me finally worthy for an appointment to see a counsellor. Being in CAHMS from the age of 14-18, I had a number of bad experiences. I never felt sick enough, never felt listened to and if I ever verbalised my frustration, I was just given excuses and justifications.
When leaving CAHMS and going into adult mental health after another attempt on my life I got diagnosed with borderline personality disorder and after a year I had enough of not "checking the correct box". I left there and was almost put off therapy for life.
Then at the age of 21 I was referred back to the mental health team for an eating disorder, I spoke to a community mental health team member, and they said they doubt I would ever get into the eating disorder service because of my weight. It felt like someone just shouted that I was fat in my face.  I finally got into all age eating disorder service and they saw me for a few weeks and said I was too depressed to focus on my eating disorder recovery and it was probably just a blimp due to my bpd. I finally got an appointment with adult mental health, but again I wasn't listened to and because I passed the point in my episode where I didn't want to end my life it felt as if they weren't interested.
My ED was all consuming. I wasn't eating for days on end, passing out, not eating all day and binging at night, my hair was thinning and i started developing acne. As a result of my ED have to have vitamin b12 jabs for the rest of my life.  The only good thing that ever came out of my interaction with Adult Mental Health was that they referred me on to Rewrite Your Story.
I finally found amazing people where there was no excuse or justification, they helped me survive lockdown and did more for me than any service did, but I was still really struggling with my ED. I was able to work with a wonderful woman named Rubie who finally made me feel that i was not alone. She was there as a Peer Mentor while I was waiting to get therapy and showed me that the bad time are not forever. With my past of bullying, trust issues, abandonment issues, sexual assault, a family where there is always a problem, I felt like I wasn't alone.
I was worried about going back into therapy, but I finally met Jane, I cannot say a big enough thank you. Jane made me feel listened to, even saying "you are sick enough and worthy of treatment". I was able to bring my concerns to her without being shut down, she was honest and genuine. I don't see her as a stranger, more of a very wise friend who always makes my life just a little easier. Sessions with Jane are my time where I can talk about me, uninterrupted. I'm not saying my eating is perfect and that it's not a daily struggle but for the first time in my life I can see progress from therapy which I've never had, and I always know that she is genuinely happy for me. I never feel scared to tell her anything or judged and I now know that the dark days are not here forever, they come, and they go but when the good days come, you make them count.
Georgie 2021
Dina's Story
Before I started the programme, the whole situation for me felt pretty hopeless, I didn't feel like I had any motivation or reason to get better and nothing not even the people closest to me – my family and friends could reach me.
Having an eating disorder is incredibly addictive, it tricks you into feeling good when it's really killing you and refuses to let you get help. In addition to the physical effects, I felt very weak emotionally and it really affected my day-to-day mood.
I found the CBTE programme through having counselling in my school. I decided to start counselling on my own because I knew I was really struggling getting through every day but I didn't really want to face the biggest issue: my eating.
When the situation got worse my counsellor recommended the programme and it has really been invaluable to me by really helping me change the way in which I saw the situation I was in and most importantly the way in which I saw myself.
It has supported me through times that I felt like giving up completely and times where I thought it would be hopeless to continue getting help. By focusing on why and how the eating disorder had such a hold on me I was able to fight back with the help of my brilliant counsellor and I can say that I'm very thankful to have been given such an opportunity.
My life now is so different to how it was before, and definitely in a good way. There are still days when I struggle a little more than others but having done the programme, I know how to tackle those days and spring back from any slight wobbles.
I feel so much better about myself and food in general, now seeing it as not something to fear but something that helps me live, concentrate and really improves my mood.
I feel so much more confident in myself and it's as if through the programme and fighting the negative effects of the disorder I have really been able to become livelier, nowhere near as shy and anxious as I was before I began.
I couldn't have got to where I am now if I hadn't participated in it and I will be eternally grateful for the opportunity, which I believe saved my life and tremendously improved my situation.
I recommend it for anyone who is struggling with eating disorders, no matter how pointless it seems and how much you feel like you don't really want to get better, you definitely do and will be thankful that you tried
Dina 2021
Fleur's Story April 2021
First of all, thank you from all my heart that you made it possible for me to participate in this treatment program and to have 20 sessions which Claire.
It felt like such a long and deep journey, and I am very grateful.
Secondly, I would like to first mention and feedback what a wonderful therapist Claire is! I felt that each session was so much guided by what was most dominant from my side and what troubled me at this moment and whatever wanted to come to the surface I could discuss and often transform into a task or image or new thought or … in a way in which it is healthy and helpful for me – and yet at all times there was such a clear path and framework and plan and I felt anchored throughout and I knew why and what we are doing.
Thank you, Claire. Also, to feedback that your incredible ability to listen ask the right questions in the right moment – I often left session feeling oh wow Claire just helped me to come to realize so important and deep things which I came up with myself during the session, but it wouldn't have happened if Claire would not have listened in the way she did.
Thirdly, at all times did I feel safe and "enjoyed" the program – of course it is tough, and it is still tough, and a big part of the journey is just about to come and will be with me continuous. But what I appreciate is all the tools which I take from the program as well as that the program helped to so clearly identify what are the triggers for me to fall into the eating disorder pattern. Also, what is really appreciated is how the structure of the program helped me to overcome my fears to weigh myself as well as helped me to stop the habit of continuously weigh myself. And this happened so gradually and automatically – I noticed in the last session especially Claire, how actually I don t feel the urge anymore to constantly weight myself – yay!!!!!
In the meantime, just a big heart filled gratitude to all of you. Especially The Molly McLaren Foundation for funding my treatment.
I shall do my utterly best to "stick" to the agreements I worked on with Claire, and yet in a soft and flexible and self-caring way and manner.
I trust myself and life and I know I can do this, and I know that I am healthy.
Thank you thank you thank you.
Warmest wishes to all of you.
Fleur April 2021
Lisa's Story (Millie's Mum who we supported with Family Therapy)
When Sallie first came to see Millie she was having a very hard time at school, Millie was very reluctant to talk with Sallie and it took quite a lot of patience from Salllie, and, using different tactics she got Millie to open up and discuss her worries.  They forged quite a bond, and Sallie even went into school to discuss specific arrangements to be put into place for Millie when she took her GCSE's.  Towards the end of the sessions Millie was much happier and even felt the sessions were  Transformational .  Sallie and Alan were a massive  support to all the family and I periodically contact RWYS  with updates  on how Millie is getting on
Lisa Summer 2019
A Letter from A young girl to Her Therapist
You were right, you can't help someone who doesn't want to help themselves. It took a month, but I finally did what you said and took a step back to look at what I really want in life. It was hard. really hard but… I chose recovery and I put my all into it, every challenge I tried my hardest. It paid off, guess who ate chocolate from the quality streets tin for the first time in 2 and a half years!
Guess who is eating 3 meals a day and none of them is salad!
Guess who's self-harm free for just over 2 months now!
Guess who called themselves beautiful for the first time in their LIFE last month!
Guess who hasn't passed out for a month and a half!
Guess who ate Christmas dinner!
Guess who hasn't attempted suicide for exactly one year today!
I'm actually crying writing this.
You've known me since I was 14 years old…
You've taught me a lot, and I know it may not have seemed like it at the time, but I was listening.
When we ended  therapy,  it didn't go well to start with but eventually, I looked back on all our old paperwork and used it all to get me to where I am today, so thank you.
You never gave up on me and for that, I will forever be grateful. I wouldn't be the person I am today without you. So, thank you, thank you so much. I hope you have had a good Christmas and a happy new year!
Tell your partner that I said he's very lucky to have someone as amazing as you and please tell Rollie I miss him, and I will always remember the first time we met.
Thank you, Sallie, I wish you all the best.
Don't Miss out on the latest articles, news & fundrasing events.